I love Pinterest, don't you?
My favorite board on my Pinterest account is my
Food & Recipe
board. I love to cook and I LOVE to find amazing recipes. Today, I thought I would share
FIVE
of my favorite recipes from Pinterest!
1. One Pot Andouille Skillet Pasta: This was SO good. I made this recently and it was not only extremely tasty but pretty healthy and ridiculously easy to make. Took about 30 minutes to make the entire meal.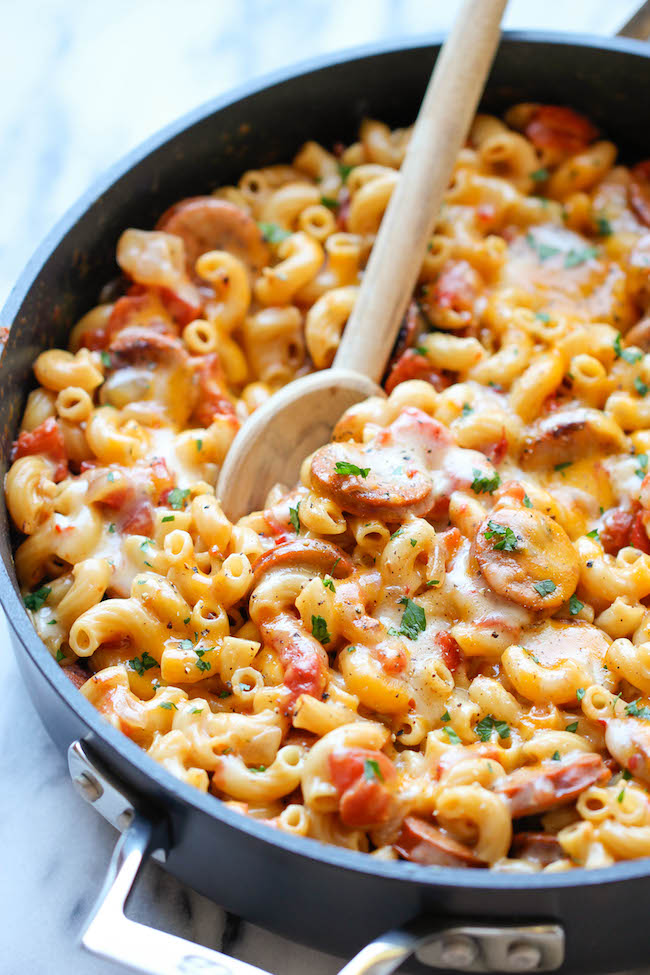 2. Butternut Squash Mac 'n' Cheese: I loved this because it was still very cheesy but lacked all of the heavy cream. Next time, I probably won't bake mine because I found it to be a bit dry when cooked. I plan to just toast breadcrumbs and then add them once combined. Great comfort food recipe with a healthy twist!
3. Chicken & Avocado Enchiladas in Creamy Avocado Sauce
:
You want a crowd pleaser?
This is the EASIEST, most DELICIOUS recipe. I make it at least once a week during the summer. My friends and family are always asking me for this recipe. Not only is it healthy but it's so
dang
good. The only alteration I've made to this recipe is that I use the
Trader Joes Corn & Flour Tortillas
--> it tastes so much better!
4. Pesto Pasta w/Chicken Sausage & Roasted Brussel Sprouts: This was super yummy, healthy and so easy to make! Plus, I could pretty much eat dog poo if it were covered in pesto.
[Okay, not really...but seriously, pesto is the bees knees.]
5. Salted Dark Chocolate Truffle Cookies: Okay, you want to die and go to heaven? I just DARE you to eat only one--these cookies are INSANELY good. They are a bit time consuming (you need to let the dough sit in the fridge for a few hours) but totally worth it! [My husband still begs me to make these often] :)